Das wird noch nix. Im Moment ist die Eislage unserem Vorhaben nicht gewogen... vielleicht müssen wir auf Plan B ausweichen ... oder C ... oder D... :-)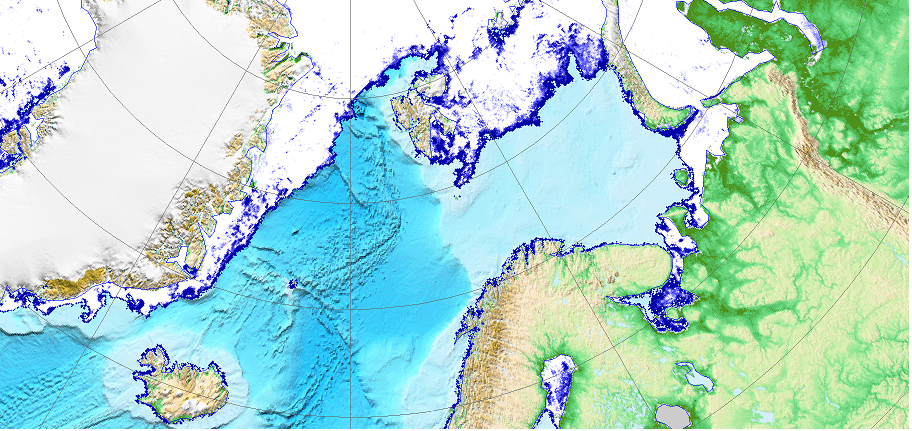 Sehr interessant übrigens wie sich das Eis im Laufe des Winters um Spitzbergen dreht und staut. Wen es interssiert:

1) Grosfeld, K.; Treffeisen, R.; Asseng, J.; Bartsch, A.; Bräuer, B.; Fritzsch, B.; Gerdes, R.; Hendricks, S.; Hiller, W.; Heygster, G.; Krumpen, T.; Lemke, P.; Melsheimer, C.; Nicolaus, M.; Ricker, R. and Weigelt, M. (2016), Online sea-ice knowledge and data platform <www.meereisportal.de>, Polarforschung, Bremerhaven, Alfred Wegener Institute for Polar and Marine Research & German Society of Polar Research, 85 (2), 143-155, doi:10.2312/polfor.2016.011.
a) OSISAF (OSI-405)
Lavergne, T.; Eastwood, S.; Teffah, Z.; Schyberg, H.; and Breivik L.-A. (2010), Sea ice motion from low-resolution satellite sensors: An alternative method and its validation in the Arctic, Journal of Geophysical Research, 115, C10032, doi:10.1029/2009JC005958.
b) Ifremer (CERSAT)
Girard-Ardhuin, F.; and Ezraty, R. (2012), Enhanced Arctic sea ice drift estimation merging radiometer and scatterometer data, IEEE Transactions on Geoscience and Remote Sensing, 50(7), 2639–2648, doi:10.1109/TGRS.2012.2184124.
c) NSIDC (Polar Pathfinder Daily 25km EASE-Grid Sea Ice Motion Vectors, version 2)
Fowler, C., J. Maslanik, W. Emery, and M. Tschudi. 2013. Polar Pathfinder Daily 25 km EASE-Grid Sea Ice Motion Vectors. Version 2. (Daily and Mean Gridded Field), NASA DAAC, the National Snow and Ice Data Center, Boulder, Colorado.
d) KIMURA (Meereisdriftprodukt)
Kimura, N.; Nishimura, A.; Tanaka, Y. and Yamaguchi, H. (2013), Influence of winter sea ice motion on summer ice cover in the Arctic, Polar Research, 32, 20193, doi:10.3402/polar.v32i0.20193.
e) Unsicherheitsschätzungen
Sumata, H.; Gerdes, R.; Kauker, R. and Karcher, M. (2015), Empirical error functions for monthly mean Arctic sea-ice drift, Journal Geophysical Research Oceans, 120, doi:10.1002/2015JC011151.